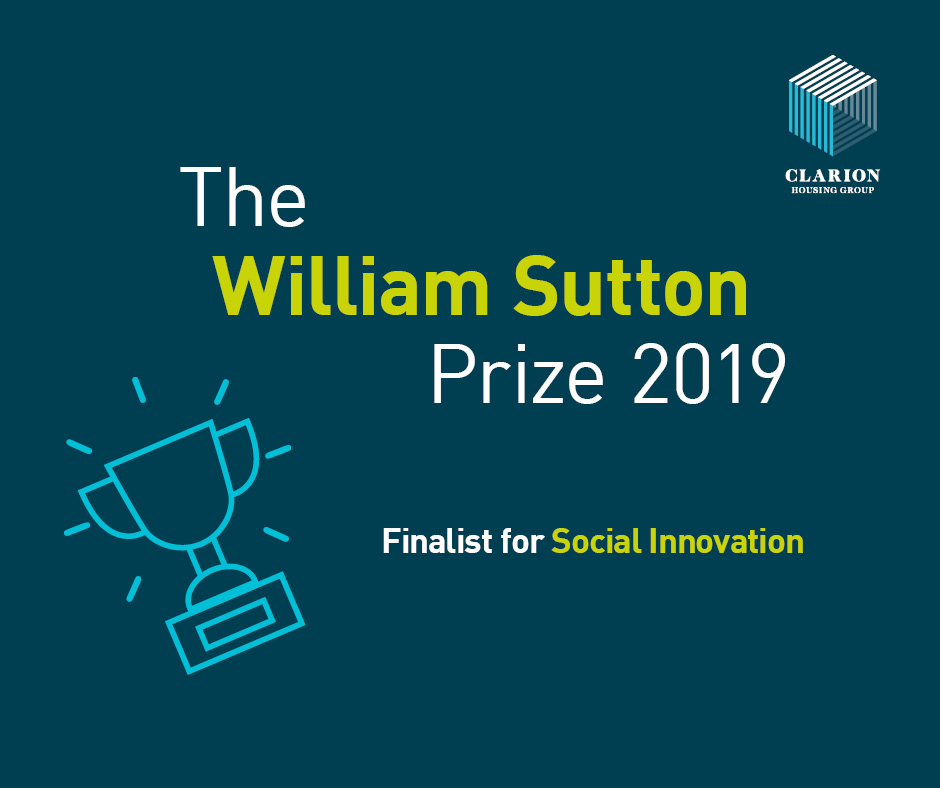 We are delighted to be one of seven organisations shortlisted for the William Sutton Prize for Social Innovation.
Clarion Housing Group would not exist today without William Sutton, a 19th century entrepreneur who founded the UK's first door-to-door parcel delivery service and bequeathed his fortune to provide much-needed housing for the poor.
Championing innovation for the good of society
Clarion, the UK's largest housing association, are looking for, "ground breaking new ideas which will make a positive impact on disadvantaged groups or communities...There are two distinct prizes, but the common theme is the value we place on innovation...A prize of up to £20,000 is available to the winner of both categories."
Our aims at Urban Patchwork
In the widespread calls for improvements to the estate agency sector, for providing more housing and addressing the increasing levels of homelessness, we saw an opportunity to try and do all three. Our aims at Urban Patchwork are to:
Provide professional and personable residential sales and lettings services, aiming to compete with market-leading agents while being a positive example of agency practice and influencing cultural change in the sector
Help meet more people's housing needs through using the majority of profits for homeless housing and support, or reinvesting them so we can increase our impact over the longer term. (We also aim to raise awareness and funds for our local homeless charity, the 999 Club.)
Our social aims are integral to how and why we do things and so far, this approach is leading to a high level of customer satisfaction. Since opening 19 months ago we have established ourselves in our local market in a challenging pre-Brexit context, receiving all 5-star reviews to date across vendors, landlords, tenants and buyers; have expressed our views on sector reforms, and have helped raised about £8000 for the 999 Club. One long-term idea is to use profits to set up a non-profit quality temporary accommodation agency to work against:
The large amount of public funds through housing benefits and significant additional local authority reserves being spent on temporary accommodation in what can be sub-standard living conditions charged at costly nightly rates
People being placed in accommodation outside of London away from their established social networks such as employment, schools and friendship groups – this can be extremely difficult to experience and can consequently cause people to be more dependent on welfare services.
Our proposal for the William Sutton Prize
As we currently serve private individuals looking to buy, sell, rent or let, our proposal for the William Sutton Prize is to explore and develop new business partnerships so that we can move into new-build sales (open market and intermediary housing), build-to-rent tenant find and researching other ways we can help developers, housing associations and local authorities to retain/generate more social value than is commonly the case through their partnerships with agents. We also want to promote our concept to encourage other communities in setting up similar estate agent social enterprises.
Our Director of Comms & Social Impact, Tessa Gooding, presented to the judging panel on 7 October and the winner will be announced on 20 November.
On the judging panel are:
Claire Miller, Chief Executive of Clarion Housing Group
Peter Holbrook, CEO of Social Enterprise UK
Greg Reed, CEO of HomeServe Group
Peter Fortune, Deputy Leader of the London Borough of Bromley
Biljana Savic, Urban Planner & Architect.
More information about the prize and those shortlisted can be read here (Urban Patchwork is featured on pages 26 & 27:
More Infomation