Looking the other way – Cressida Dick addressing the Metropolitan police, London 2020 by James Whittaker.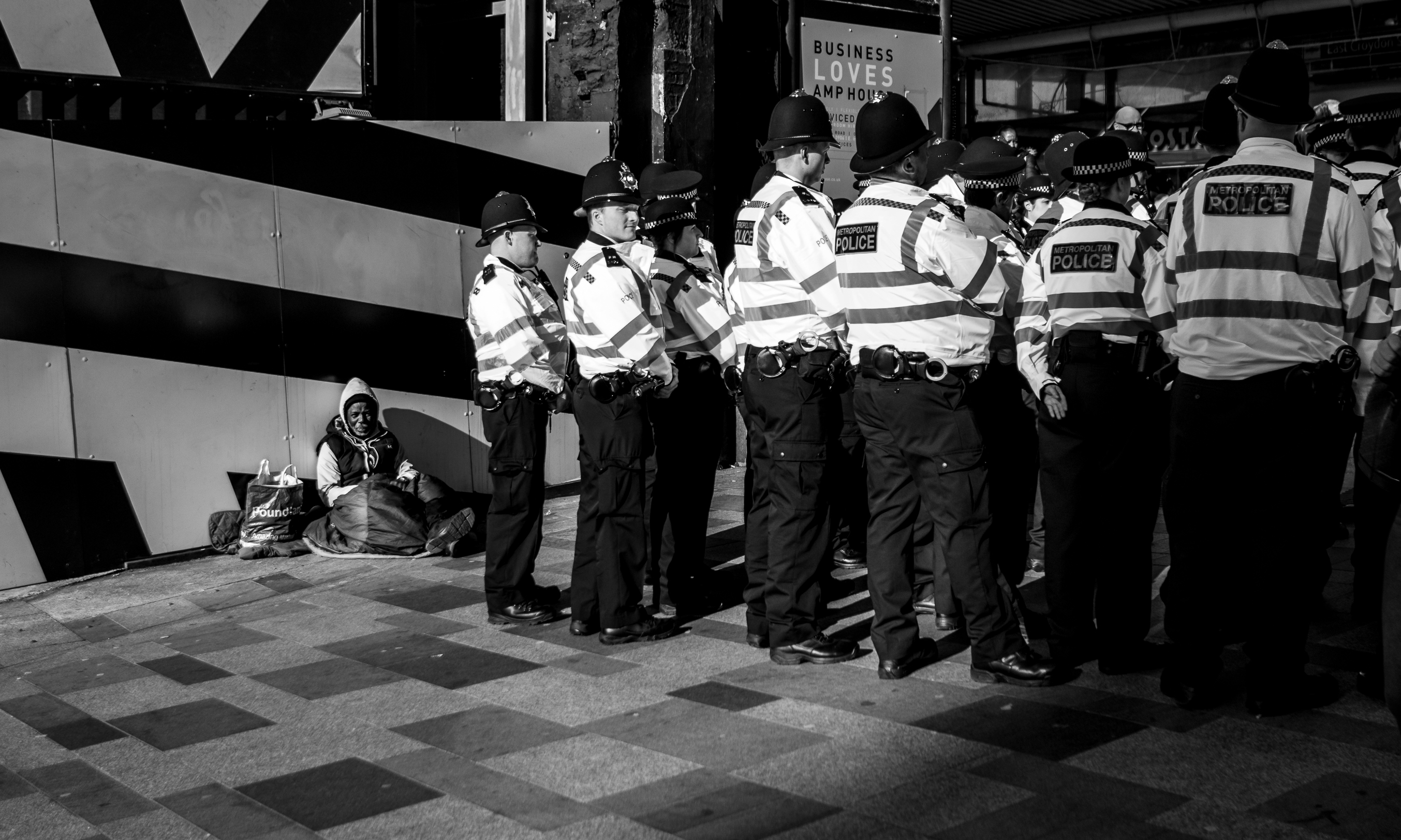 244 entries were received to the photography competition in aid of the 999 Club, raising over £1000 for the South London homeless charity based in Deptford. There was a different judge for each category and the above shot from James Whittaker in The Street category was crowned the overall winner. James will receive the £200 prize donated by Urban Patchwork (an estate agency with a social mission). He said:
"In March 2020, I came across a large group of police officers marching towards East Croydon train station. Like everyone else present, my attention and camera lens followed the focus of the television camera, into which the Metropolitan Police Chief spoke. With increasing numbers of mobile phone cameras joining in, I moved away from the crowd. As I did this, I noticed the man in the photograph watching the commotion. The shot composed itself. He looked at me briefly and I took two quick frames.
I think the photo provokes thought about the issues surrounding homelessness, particularly isolation and the half-willful blindness that we are prone to – made more relevant by the recent development of the Black Lives Matter movement. As a photographer, it was a reminder that the best photograph is rarely the obvious one, and never the one that everyone else is taking."
Donate to 999 Club here
If you didn't get a chance to submit a pic but would like to support the vital work of the 999 Club homeless charity, you can donate here. All funds raised are desperately needed, now more than ever in the Covid19 crisis. The 999 Club staff are working tirelessly to move people (particularly rough sleepers) into accommodation and to support them while there.
The winners in each category are below, along with the top three runners up in each category. Photos were judged anonymously and against the following criteria: impact, creativity/originality, composition, use of light and technical achievement.
Thanks to Bermondsey resident Sandra File for organising the competition and for her continued efforts in supporting the 999 Club – their work has never been more important! Thanks also to the judges, including the vibrant Jason Purple, and to all those who participated in the competition. The competitiors' choice favourite photo is the first place Peace winner below by Anthony Reed.