We won the Cecil Jackson Cole Award for Social Responsibility (also known as the Best Agent CSR Award). The final award at this year's Agents Giving Awards on Friday 7 December 2018 at the Grosvenor Marriott Hotel, London.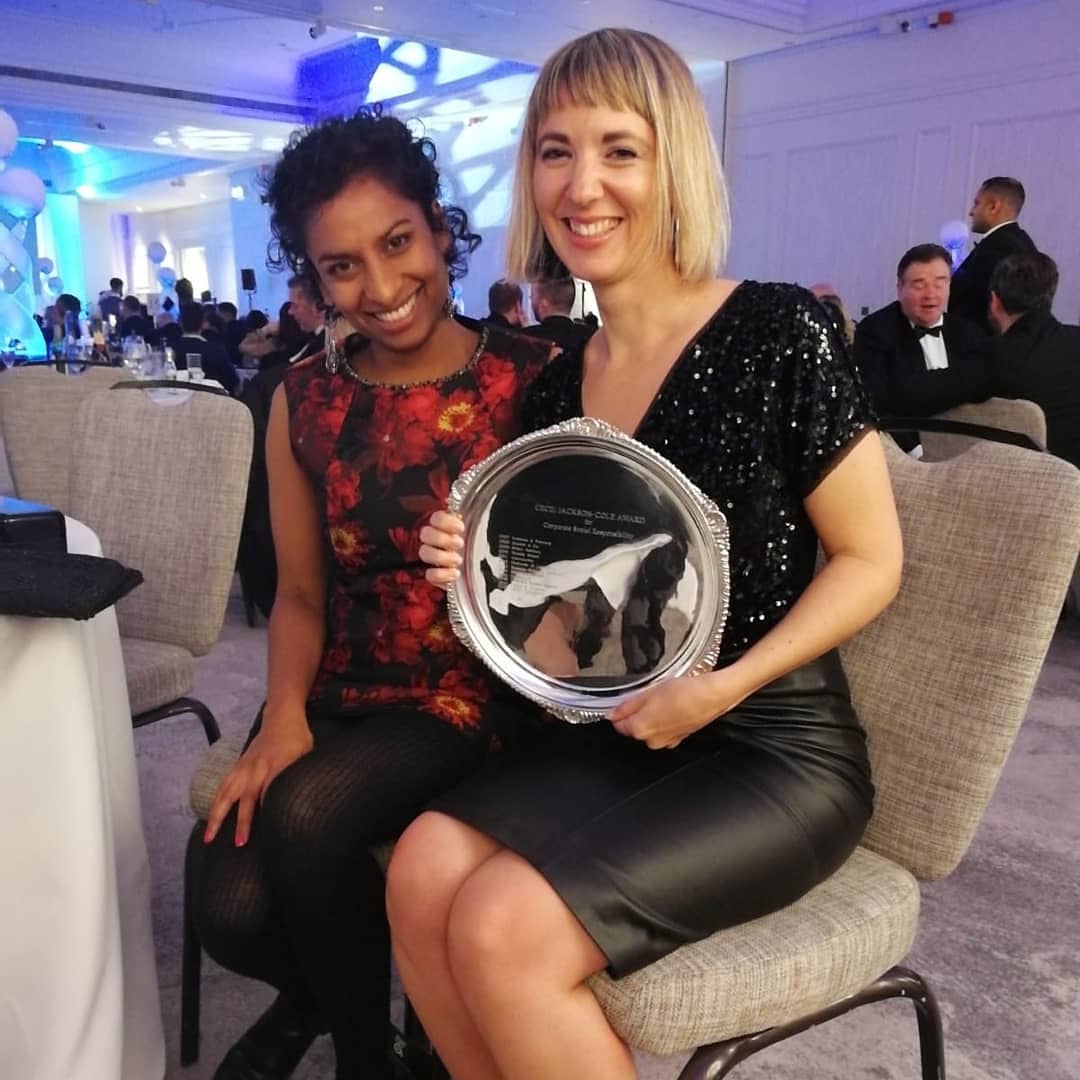 The award is about:
"building platforms to learn, share and put in place ideas and encouraging ethical business practices.
This award aims to recognise agents that puts Social Responsibility and CSR at its base, demonstrating its commitment to change and improvement.
The judges will look for proof of a clear, well communicated CSR approach that is fully integrated into the agent's everyday business approaches as well as examples of projects and strategies that have a positive impact on the agent's local community, for example, environmental consideration, charity work or donations or local employment and education.
The judges will particularly look at commitment, consistency and imagination, both in terms of the CSR policy itself and the awareness and involvement of the whole team as well as the monetary value of donations."
Cecil Jackson Cole was a social entrepreneur and a pioneer of his time, using his estate agency business to generate profits for charities to help meet society's needs. He co-founded Oxfam and many other charities, and was responsible for opening the UK's first charity shop and instilling business acumen in the running of Oxfam. To find suitable partners to set up his estate agency business with a social purpose, he put out an advert in 1946 from 'a company which gives a third of its profits to the staff, a third to charity and the remaining third for the organisation.' Cecil and his business partners Leslie Swain and Raymond Andrews were also involved in setting up the National Association of Estate Agents as a way of upholding good practice and high professional standards in UK Estate Agency.
Urban Patchwork Co-director Tessa Gooding (pictured above after collecting the award) said, "We've formed with similar intentions to Cecil so it means a lot to have the potential of Urban Patchwork recognised through this award. We still have a long way to go to achieve the impact we set out to make and we are looking for people to help us get there. We are currently recruiting for a full-time Sales and Lettings Property Adviser, so come and join us!"
We were shortlisted for the Cecil Jackson Cole Award alongside Chestertons and College & County Lettings Agents. As the charity for the property industry, Agents Giving works with Estate and Letting Agents and their suppliers across the UK to encourage, support and promote their fundraising activities.
About us
Urban Patchwork is based by Greenland Dock in Rotherhithe SE16, close to both Surrey Quays and Canada Water Stations. We were founded by brother-and-sister team Toby and Tessa who grew up nearby in South London.
In the calls for both improvements to the agency sector and for providing more housing, we saw an opportunity to try and do both:
We provide professional and personable residential sales and lettings services and aim to be a positive example of agency practice
We will use the majority of our surpluses for homeless housing and support through our UP fund, or reinvest them in the organisation to ensure we can increase our impact over the longer term.
We are members of the Property Ombudsman, NAEA & ARLA Propertymark and the Tenancy Deposit Scheme.
Our partnership with 999 Club homeless charity
Since opening, we have also been supporting local homeless charity the 999 Club with their awareness and fundraising efforts. They provide advice and support for people who are homeless to equip them with the ability and confidence to learn new skills, gain employment and find sustainable housing solutions. At Urban Patchwork in 2018 we have/are/will be:
Match-funding customer donations to the 999 Club, up to the value of £25 per property sale/let
Raising awareness for the 999 Club in branch, on our website, through social media and through our brand, marketing and customer materials
Taking part in the Prudential Ride London-Surrey 100-mile cycle on Sunday 30 July, fundraising for the 999 Club (our director Toby cycled – you can read more about this here.)
Walking 52 km of the Thames Path on Saturday 27 October for the 999 Club (our director Tessa did this from Teddington Lock to the Thames Barrier. You can read more about this here.)
Encouraging our staff to volunteer at the 999 Club's morning Gateway Service as part of their induction with us and at other opportunities
Meeting with the 999 Club Homeless Support team to understand the challenges 999 Club clients experience when accessing the private rented sector, and learning from their work and experiences to inform our working practices.
Tim Fallon, CEO of the 999 Club, said:
"We're really grateful to both Tessa and her brother Toby at Urban Patchwork for their tireless commitment to raising crucial funds to help homeless people in South London.
Donations are a significant part of our income and are invaluable in allowing us to run a day centre all year round and to providing housing advice, benefits support, skills workshops and guidance in finding work, which all help to empower vulnerable people to have a new start."
The service we provide
Our social aims are integral to how and why we do things and so far, this approach is leading to a high level of customer satisfaction, having received all 5-star Google Reviews and AllAgents reviews to date from across vendors, buyers, landlords and tenants, as well as other prospective customers. For example, in September 2018, Steve James said, 'Can't recommend them more: very helpful, honest and worked with the highest level of integrity. They helped us in a difficult situation and were able to look outside the box. Thank you.'