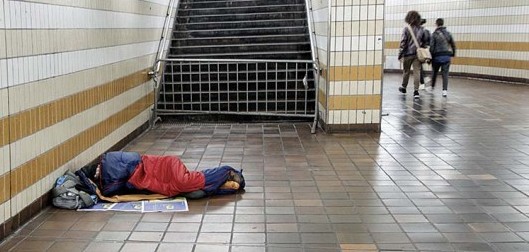 According to a Shelter report published in November, 300,000 people in Britain are now homeless. The highest rates of homelessness are within 10 London local authorities.
Polly Neate, Shelter's chief executive, told the Independent, "On a daily basis, we speak to hundreds of people and families who are desperately trying to escape the devastating trap of homelessness. A trap that is tightening thanks to decades of failure to build enough affordable homes and the impact of welfare cuts."
The National Audit Office (NAO) reported in September that the ability of local authorities to respond to increased homelessness is constrained by the limited options they have to house homeless families. For example, there has been a significant reduction in social housing over the past few decades. The NAO found that there were 77,240 homeless in temporary accommodation in England in March 2017, an increase of 60% since March 2011. These households included 120,540 children, an increase of 73% from March 2011.
The increasing number of statutory homeless is leading to rising temporary housing costs for local authorities, particularly in London and the South East, eating-up resources which are greatly needed elsewhere. In the 2015 financial year, London boroughs spent £203m on temporary housing rented on a per-night basis (up from £90m in 2011). While councils will be refunded for some of the costs by central government – for instance through housing benefit – many local authorities say they are increasingly having to subsidise temporary accommodation.
Councils are struggling to secure long-term leases on properties to use for temporary accommodation, so are forced into costly per-night rental agreements with significantly variable quality standards. Due to a lack of housing options, local authorities are also forced to house people outside the capital where they are disconnected from their established social networks – the number of homeless London families placed in temporary accommodation outside the capital has risen five-fold since 2012.
The NAO reported that while spending by local authorities on homelessness services such as temporary accommodation has steadily increased since 2010, spending on overall housing services has fallen by 21% in real terms over the same period.
How we will contribute to homeless housing and support
The majority of our surpluses will go to homeless housing and support in London or be reinvested in the organisation to ensure we can increase our impact over the longer term. Once we have accrued sufficient surpluses money will be awarded to homeless organisations / projects.
One idea we have is to use profits to contribute to non-profit quality temporary accommodation in London to work against:
the large amount of public funds through housing benefits and significant additional local authority reserves being spent on temporary accommodation in what can be sub-standard living conditions at costly nightly rates
of people being placed in accommodation outside of London away from their established social networks such as employment, schools and friendship groups - this can be extremely difficult to experience and can consequently cause people to be more dependent on the public purse.
We are likely to need a large amount of surpluses to make a significant impact in this area, so this could potentially be a longer-term plan once we have scaled-up our operations.
Initially our income is likely to cover running costs so we can firmly establish the organisation, rather than generate surpluses. However, we will be supporting local charity the 999 Club (based on Deptford Broadway) with their fundraising efforts, including match funding donations made by our customers to them. The charity provide advice and support for people who are homeless to equip them with the ability and confidence to learn new skills, gain employment and find sustainable housing solutions. Find out more at: www.999club.org
Other approaches required to meet homeless need
We recognise the important role of charitable organisations who provide housing and support for the homeless, as well as the role of lobbying and campaigning organisations that push for legislation and policy reforms to reduce homelessness that will help to ensure:
more social and affordable housing is available
that there is a sufficient welfare system
and that there is a reduced dependency on the private for-profit sector to provide temporary and other forms accommodation for those in housing need.
International human rights law recognises everyone's right to an adequate standard of living including adequate housing.
Concluding reflections
We see setting up Urban Patchwork as a pragmatic way to meet demand for professional estate agency services, to improve/influence agency practice, and to use some surpluses to help meet more housing need. We will be learning as we go to ensure we are operating in the best way we can as we become more established.